PLEASE NOTE, WE DO NOT SELL TO THE GENERAL PUBLIC

CUSTOM MADE PATCHES, POCKET PATCHES, NAME TAGS, KEY FOBS, COINS, and other CUSTOM ITEMS

** See these special Pages all custom for each special Item we make...

Having a CRUISE and want a custom patch?
How about that new Friday Patch?
Reunion coming up and don't have that old patch, well we can remake it for you,
we make up small amount of just 50 Patches and key fobs
You have seen the rest, now get the BEST.
with over 22 years of experience, we are owned and operated by a
VET, and a Flyer.. We know what you want.
Our products speak for them selves, they are 2nd to none...

We have the EXPERIENCE / WE ARE VETERANS / WE are FLYERS - Military Reserve
What other company has made patches under contract to Boeing, The Blue Angels, the Thunderbird's and all branches of our Military?
we even make patches for the RAF and GAF, Movie Studios Police and Fire... Just SFS !
The small amount of patches shown below are just a few of the "Thousands of Patches" we have made over the last 22 years...

We accept ALL major Credit Cards with Intuit Payment Solutions.
A 2.0 % Credit Card charge on your order will be added if you choose to use one of these credit cards to pay for your custom orders.
Thank You SFSPATCHES
---
---
Custom Patches Page,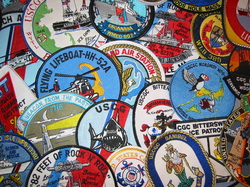 We make custom patches for all the Military, foreign military squadrons, Police and Fire as well as those special patches you need...
Cruise patches, Det Patches, Aircraft Tail Patches, Aircraft cutout patches, Class Patches, CQ Patches
Special Event Patches ( RED FLAG/ PAC RIM)...
PATCHES (Min Order of 50 of One Design)
NAME TAGS, ( Min Order of 12)


---
Custom Helmet Bags DIRECT EMBROIDERED.... Custom made, custom names,Wings and aircraft well what ever you want...

---
Custom Coins, see the many coins we made a the link above...

Custom PVC SOFT PLASTIC PATCHES!

You can find them all on our PVC Custom Patch Page....


All prints are copyright protected 2014/15

---
Key Fobs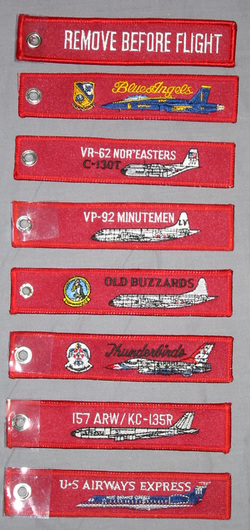 We make them custom just to you and your squadron or ship or business...
2 Sided, any color and we make them for all kinds of events

Police and Fire Key Fobs also...
**Min Order of 50 of one design.

---
---
Custom Made TAIL FLASH PLAQUES... See the link above

See our wide line of Custom Made Aircraft Plaques...
Military Aircraft
Airliners
Civilian
Call and see what we make for you... ALL MADE IN THE USA
** Min Order 1 **

---
---
Sorry we no longer make... Custom Made Name Tags...